Free Arizona MVD Online Practice Test
You are about to take a FREE Sample of the Arizona MVD Online Practice Test. The sample test consists of 10 multiple choice questions and answers.
Please select the best answer for each question below and then click "Grade It!"
About the Arizona DMV Written Test
The Arizona Motor Vehicle Department (Arizona MVD) is responsible for the safety and enforcement of operating a motor vehicle in Arizona. All residents are required, by law, to have an Arizona lic... (read more)
Study Material Available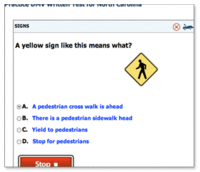 About DMVCheatsheets
Since 2008, DMVCheatSheets.com has helped tens of thousands of people quickly, easily and safely prepare for and pass their DMV written test.
DMVCheatSheets.com offers no-nonsense, professionally written study guides and practice tests for all 50 states. Our site is 128-bit secured and we are a member of both TRUSTe and Authorize.net, leaders in online trust and security.